Hoe wisselen geeks hun online social media gegevens uit me hun peers als ze offline zijn?
Met de GSM, iPhone, Blackberry of Smartphone? Juist, zou kunnen, maar veel leuker is met een P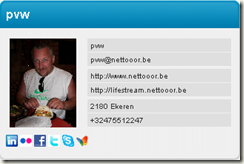 oken. "Do you poken" is de laatste rage in het Belgische Twitter wereldje. Met een schattig poppetje en een grote hand wissel je je digitale visitekaartje uit. Eenmaal thuis zet je de gegevens via usb (de hand van de poken kan verwijderd worden, waarna er een usb connector vrij komt) online, verzamel je punten, maar kan je vooral even je nieuwe vriendjes screenen en ze bevrienden in de gemeenschappelijke sociale netwerken.
Dit soort van speeltjes zijn natuurlijk maar zo nuttig als de verspreidingsgraad van deze poken. Dus wordt er veel over getweet en geblogt en brengt iedereen zijn Poken op tafel tijdens een Twunch (spontane lunch tussen Twitteraars).
Zinnig? Dit zal de toekomst uitwijzen, maar voorlopig wel leuk en de gimmic voor de komende Midwinter Blogbecue 😉
Do you Poken?
(met dank aan BVLG voor de foto)
Update:Ik zie heel wat vragen van Poken bezitters die meer uitleg vragen over de ghost ID of discrete mode, vandaar deze kleine update.
"Your Poken has a "Discrete" mode. If you double-squeeze the palm of your Poken's hand (like a double-click), it enters "Discrete" mode, which means for the next 30 seconds any person you touch with your Poken will not receive your real Poken ID. They will receive your "ghost ID". You, on the other hand, will have their regular ID so when you login to your Poken account you'll see all the details they've elected to share. When the person you've "ghosted" logs into their account, instead of seeing your details they will see a ghost. It's only once you've looked at their account and accepted online to be linked to them that they'll be able to see who the "ghost" was."
Please follow and like us: